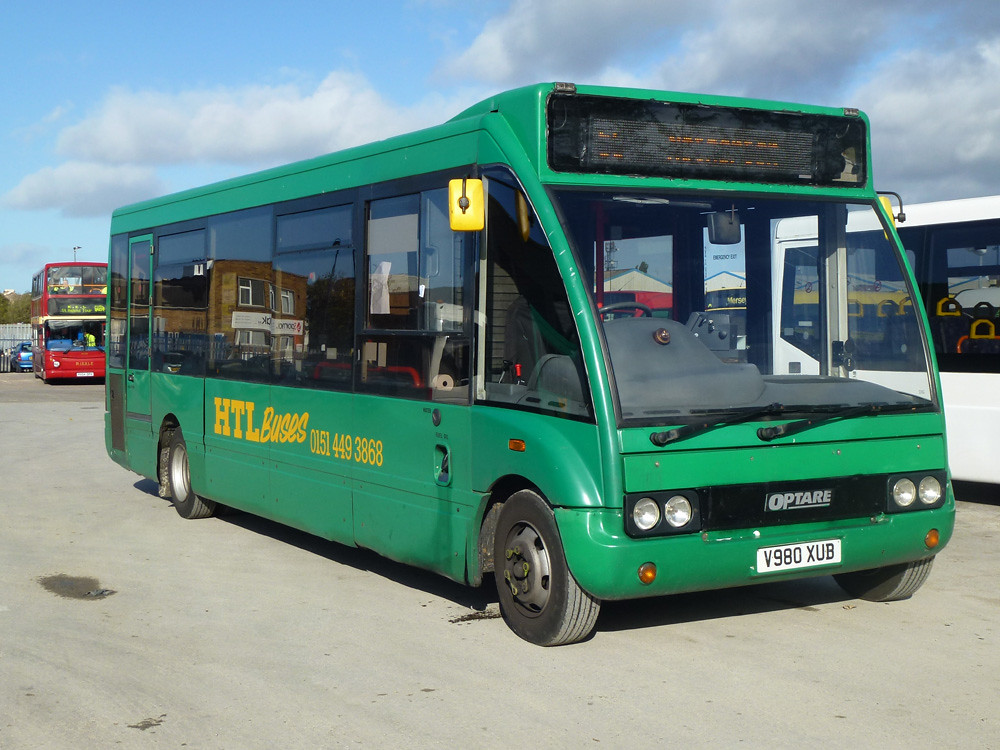 | | |
| --- | --- |
| Fleet number | 62 |
| Registration | V980 XUB |
| Chassis type | Optare Solo M850 |
| Body type | Optare |
| Engine | Mercedes-Benz OM904LA |
| Gearbox | Allison AT545 |
| Seating layout | B30F |
| Date first registered | February 2000 |
Early years
V980XUB was delivered to First Bristol in February 2000 for use on the Dyrham Park shuttle, connecting the National Trust country house in Gloucestershire with central Bath. It arrived painted in a unique fern green livery with grey skirt and red pinstripe. Merely months after it entered service, Corgi issued a model of V980XUB complete with Dyrham Park branding in May 2000.
In May 2003, First Bristol became First Somerset & Avon, and soon after V980XUB was repainted in a plain white livery complete with Dyrham Park branding and graphics, receiving the fleet number 53000. It remained with First until early 2006 and was then sold to HTL Buses of Merseyside via BCA Vehicle Auctions of Belle Vue, Manchester, officially transferring to its new operator at the beginning of July 2006.
HTL Buses
Before entering service with HTL, V980XUB received its new operator's all-over dark green livery and yellow logos. It was officially given the fleet number 62 but only briefly carried it externally. For the next ten years it was used on the considerable collection of HTL routes, particularly in its final years the 196 (St Helens to Prescot) and the 17 (St Helens to Widnes). XUB established itself as a reliable performer for HTL over the years.
At the time of its transfer to HTL, XUB was one of only two Optare Solos in the fleet, the other being ex-Nottingham S284NRB. How things have changed to the present day with 42 further Solos having been acquired by HTL over the years!
V980XUB was withdrawn from service on 13th November 2016 after a career spanning nearly 17 years. Having spent almost two years on the sidelines in HTL's yard, it became the first bus to be acquired by one of the MDDW's administration team in July 2018.
Photo gallery to be added soon.