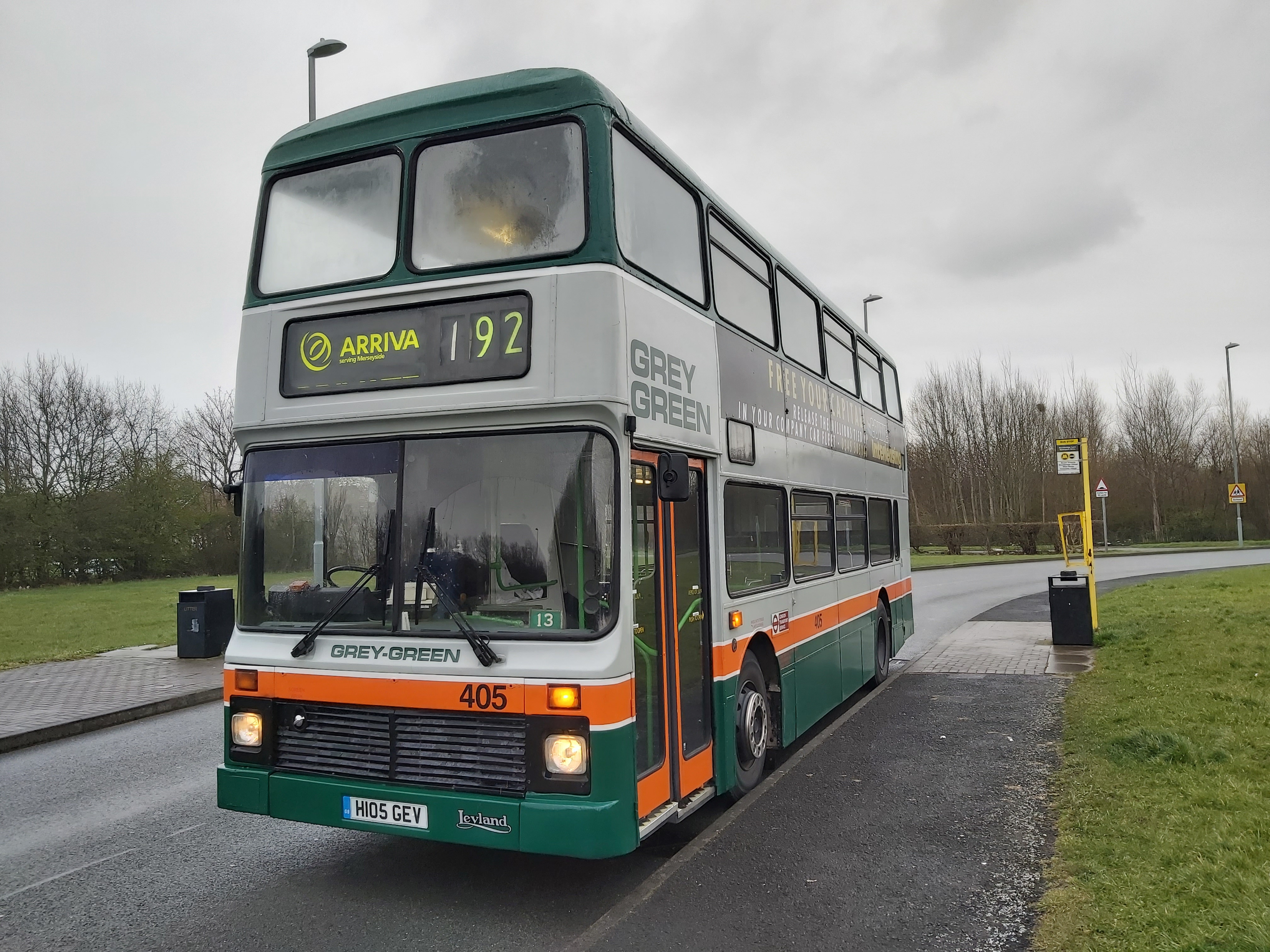 | | |
| --- | --- |
| Fleet number | 405 |
| Registration | H105 GEV |
| Chassis type | Leyland Olympian |
| Body type | Northern Counties Palatine |
| Engine | Cummins L10 |
| Gearbox | ZF Ecomat |
| Seating layout | H47/30F |
| Date first registered | August 1990 |
Early years
H105GEV was delivered to County Bus & Coach Co. Ltd's Grays garage in Essex during July 1990 as fleet number LR105. It was one of a batch of 14 Leyland Olympians purchased for the 103 route between Romford and Rainham in the eastern fringes of Greater London. It entered service in September 1990 at the start of County Bus' route 103 contract.
Its stay with County Bus was particularly short: merely months into the 103 contract, the operator chose to pass it on. Thus, in September 1990, LR105 and its sisters were acquired by Grey-Green and moved to that company's Barking depot. It was shortly afterwards renumbered 405 and repainted into Grey-Green's attractive house colours of dark green and grey with an orange band.
The Grey-Green operation had since 1980 been owned by Cowie Group, which re-branded itself Arriva in 1998. Having adopted an aquamarine and cream livery for its provincial operations throughout the UK, a red and cream iteration was created for Arriva's London operations which was then applied to 405 and its stablemates.
The H-GEV Olympians were the mainstay of the 103 route but did sneak out onto Barking depot's other routes. After a ten-year stay in the capital, 405 and its H-GEV classmates left London in 2000 once Arriva had ordered replacement buses for the 103.
Arriva North West
In September 2000, 405 was transferred alongside its 13 sisters to Arriva's North West division. Renumbered 3105, it was first allocated to Manchester depot primarily for use on the 114 Manchester to Wythenshawe route and entered service still in red livery, before being repainted into Arriva's standard colour scheme of aquamarine and cream later in 2000. By October 2003 it had migrated to Laird Street depot in Birkenhead, where it supplemented 36 long wheelbase Volvo Olympians on 'Cross-River' services such as the 407, 408, 432, 433, 437, 464 and 472, connecting Liverpool with places as far apart as New Brighton, West Kirby, Heswall and New Ferry. It was one of six H-GEVs based at Laird Street - 3105/09/12/13/14/15 - the last four of which passed to Speke in September 2007. 3105, however, remained at Laird Street, save for a brief spell on loan at Speke.
By the time Arriva withdrew it in early 2009, 3105 was nearly 19 years old and the H-GEV batch of Olympians had shown remarkable staying power; Arriva North West have tended to withdraw buses at approximately 15 years old.
Vale Travel
Despite its age, 3105 was purchased by GHA Coaches in March 2009 alongside sisters 3113 and 3115. GHA initially placed it in the Vale Travel fleet serving Chester and outlying areas, where it received its fifth livery: Vale Travel's livery of cream, light blue and dark blue. Its seats were also re-upholstered for the first time in its life from Holdsworth moquette to a blue patterned trim. It was also re-registered 1810VT in February 2012, carrying this registration until final withdrawal.
The curtain finally came down on H105GEV's 26-year service career when the GHA group went into administration on 13th July 2016. All GHA's directly owned buses were subsequently auctioned off by the administrators.
Preservation
H105GEV was initially acquired for preservation by Colin Thorne from the auctions of August 2016. Colin restored its original registration and repainted it into its original County Bus livery during September 2016. During August and September 2017, H105GEV was repainted into Grey-Green livery, re-assuming fleet number 405.
Colin sold it for further preservation on 27th August 2018 and it now forms part of our collection, currently residing at the North West Vehicle Restoration Trust's Kirkby base. H105GEV has attended various events since we acquired it, including the North West Vehicle Restoration Trust's running days, the Wirral Bus & Tram Show and a visit to the Isle of Wight in October 2019 for the Beer & Buses Weekend. It joined fellow preserved bus and former Laird Street stablemate N305CLV on the Merseyside Bus Cavalcade on Sunday 20th September 2020, journeying from Wallasey to Southport.
One of our future aims is to restore H105GEV's original Holdsworth 'autumn gold' seat moquette, which it carried throughout its stay on Merseyside.