Merseyside Dennis Dart Website
Welcome to the Merseyside Dennis Dart Website!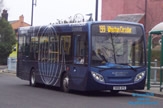 Please note: the new website is still in development so there will be a number of dead links and potentially missing images over the next few weeks until the site is finished. Thanks for bearing with us!
The aim of this site is to provide a vast range of information about all bus operations on Merseyside along with fleet lists for many operators on Merseyside and in the surrounding regions.
Please use the menu above to navigate the different sections of the site, including the news section which features all the latest updates on local bus operators and the articles area for bus reviews and opinions. There is also the fleet lists section containing details of many local bus fleets and the forum for discussion of all local transport.
---
Latest Updates
| | | | | |
| --- | --- | --- | --- | --- |
| News | | 18/04/14 | | Arriva and Stagecoach latest added |
| Fleet Lists | | 01/10/14 | | Blackpool Transport and Tours Isle of Man created. Others updated. |
The Blackpool Transport and Tours Isle of Man fleet lists are now online, with thanks to P537 MBU!
The news page will be updated shortly with the latest from around Merseyside, and updates should follow quarterly thereafter.
---
Arriva Receive More Enviro400s
Arriva North West & Wales have received 48 more Enviro400s for Rhyl, Southport and Speke depots during this summer. See the news page for further details!
Search the Merseyside Dennis Dart Website:

Merseyside's Biggest Bus Enthusiast Website!
Online since 05/11/2000
---
Original website and hosting by Steve Dave (Buses7675). Current website design and content © 507009, 2014.
All content and photographs featured in this website are the property of their authors and should only be reproduced with prior permission.
About | Contact | Contributors